Tar Spot Fungus Treatment for Maple Trees in Winfield and Surrounding Areas
Tar Spot is a fungal disease that affects the leaves of certain varieties of Maple Trees and we have an excellent treatment program to deal with it!
The fungus that causes Tar Spot travels to Maple trees as a microscopic windblown spore. The infection appears in late Spring as pale yellow leaf spots that grow and continue to darken as Summer progresses. At this point these yellow spots morph into larger black circles that resemble a series of cigar burns on the leaf.
As the disease continues to accelerate these large black spots become visibly lighter but the leaf tissue all around them dries, leaving the leaves with a dried out, burned appearance that start falling from the tree. This occurs well before the Fall, littering lawns and leaving the tree with a thin, droopy canopy.
Tar Spot is 'rarely' serious enough to threaten the overall health of a tree but the leaves can become so infected year to year that homeowners contact us, to correct the unsightly appearance. In addition, when the leaves of the tree distort and dry out as shown in the third photo homeowners really miss the reason we all love Maple trees…There will be no brilliant 'Fall Color' display.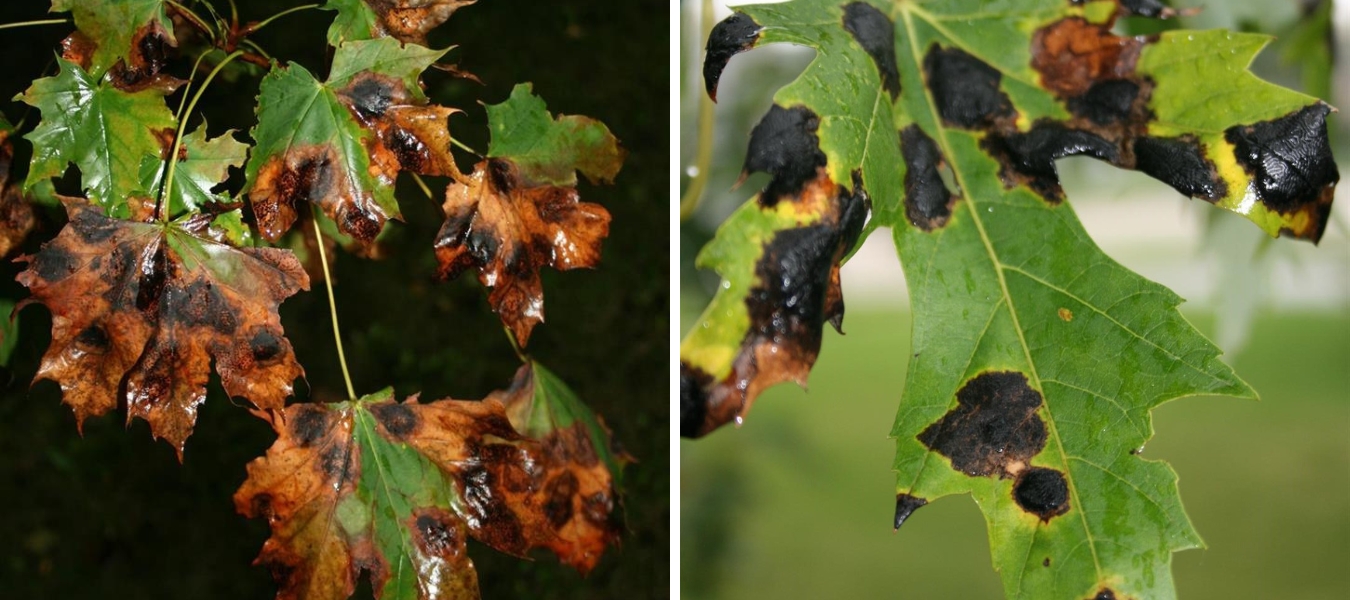 Treatment requires three perfectly timed spray applications in the Spring with high quality fungicidal products.
Clients often ask..if we treat our tree and our neighbors do not, will your treatment still work?
Answer…Absolutely!
We have situations where our clients Maple branches are actually intermingled with their neighbors Maple over the fence, both of which suffered with the Tar Spot the previous year. Our clients tree will be perfect while the neighbors tree is once again infected. Our treatment results are amazing.